Babies become more curious as they grow. Many of them would like to see what's happening around them. But is babywearing facing out the best solution?
Babies Who Want to See the World
Usually, it's around 4-5 months when babies start to be more curious about what's going on around them. They like to look around and even if they cannot really explore their environment, they'd like to watch what is happening. Yet, it's good to know that this stage is very individual. Some babies are perfectly fine looking around while still facing their mom in the baby carrier or wrap. 
Is Babywearing Facing Out a Solution to this?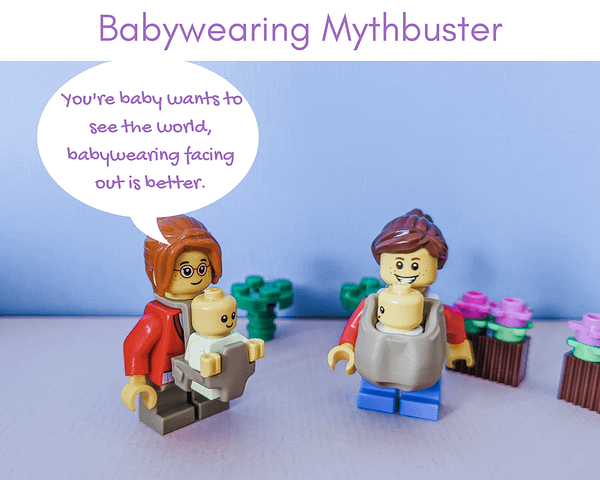 Some babies, however, start to protest around this age when they're in a facing in position. So what can you do about it? Babywearing facing out is definitely a solution, but not the only one. It's good to know that there are alternatives out there because facing outwards is not optimal for babies under 5-6 months old (depending on the carrier) and unsafe for babies who don't have sufficient head control. There are also some things you should know before carrying your baby facing outwards to stay on the safe side. Many parents also find that this position is less comfortable, as shifts their center of gravity further.
What Are the Alternatives to Facing Out?
Letting the baby getting her arms out of the baby carrier or wrap while facing in is a position that satisfies many babies. That's because this way they can turn to the side and see more of their surroundings. Hip carrying is another way to provide your little one more opportunities to see the world. And if your baby is old enough to be back carried in your baby carrier (which varies from carrier to carrier), you can also wear him in a high back carry position. This allows babies to see over your shoulder while facing the same direction as you.